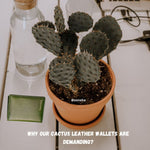 Why Our Cactus Leather Wallets Are Demanding?
The original wallet has been around since the early 1300s and was described as a bag more than what we are familiar with today. Only during the 1600's did we decide to simply things. This simplification has extended beyond the design, it has developed into a safekeeping, a fashion accessory that holds our materialistic world in the palm of its compartments.
Our gratitude towards this amazingly simple accessory and what it holds has been lost.
Fashion has really influenced how we live our lives and what impact it has collectively across the globe. It affects how we think, how we move and where we go. It has set the benchmark on how businesses market and sell their products to the consumer. The supply and demand has created an ocean of new ideas, jobs and opportunities for entrepreneurial influence and success.
This fashion accessory has developed into more than just the functionality thereof, it has become a thought process in longevity and protection. It has become a redeeming quality for the voiceless.
For centuries this very needed change has finally started to move into a purpose rather than a typical functionality. We have seen a tremendous amount of change around the production and creation of this thing we know as the wallet.
Cactus leather has taken centre stage and has become the material to be reconned with. Vegan wallets are now one of the most in demand and talked about must haves of 2022.
Not only has cactus leather wallets made its way into plenty of homes, but it also has allowed for millions of innocent lives to be saved. This beautiful creation has not only opened the eyes of the consumer but also the hearts of many more involved with the whole productions and supply process.
We are seeing huge Brands and Companies change their ethical outlook and identity. We are seeing these very brands take responsibility and accountability for their actions. When this acceptance takes place, we see a beautiful flow and synchronisation of like-mindedness.
Animals are being saved, the planet is healing and recovering because we are learning from our mistakes. We are finding new ways to evolve and flourish in this unconscious world. The collectiveness is coming together and working together rather than working against each other.
Our continuation of this lifestyle will allow the generations to come a steppingstone to a prosperous and lavish green future. A future to look forward to and one to be excited about.
There is no one that will do it better than our own willingness to create and allow change. Cactus leather and vegan wallets are here to stay, and we should look forward to what the future holds in the development of these phenomenal products and life savers.
It is our duty to guide and teach our kids so they will be on the forefront of this new and exciting global rocket ship shooting for the stars.
We can and we will.